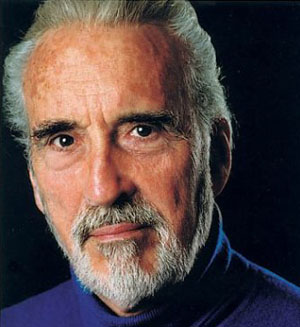 Film legend Christopher Lee is just one of many actors who are getting talked about at least a little bit among circles of fans regarding Tim Burton's forthcoming
Alice in Wonderland
. But a reliable source is hinting that Lee will indeed be in the film.
On the forum of the official website of Christopher Lee, the administrator (Lee's son-in-law), said this:
Mr. Lee will be in this movie but confidentiality agreements prevent me from disclosing his character. I guess we will have to all wait for an official announcement from Disney but I think you all know what the character will be anyway.
Lee has worked with Tim Burton three times before, originally on
Sleepy Hollow
in 1999, and then
Charlie and the Chocolate Factory
and
Corpse Bride
in 2005.
He narrated the original poem of
The Nightmare Before Christmas
written by Burton on the recent DVD release of the film.
Lee was also set to be in
Sweeney Todd: The Demon Barber of Fleet Street
, until his sequence and thus his character was cut while planning in pre-production due to time constraints.
Fans of this deep-voiced thespian will likely rejoice if word of Lee's participation in
Alice
is true. Until then, we'll have to wait for Disney's official statement.